Farfetch
For the Love of Fashion
Farfetch exists for the love of fashion. We believe in empowering individuality. Our mission is to be the global technology platform for luxury fashion, connecting creators, curators, and consumers.
History
Farfetch was born out of a deep love of fashion and a profound belief that fashion is an essential expression of individuality and what makes each of us unique.
Farfetch exists for the love of fashion. We believe in empowering individuality. Our mission is to be the global technology platform for luxury fashion, connecting creators, curators and consumers.
The Farfetch Platform
We operate a modular end-to-end technology platform purpose-built to connect the luxury fashion ecosystem worldwide. Our vision was to create a single operating system that could address the complex demands of consumers and luxury sellers alike. Our platform is built on an API-enabled proprietary technology stack, which provides the foundation for the three main components: applications, services, and data.
The Farfetch Marketplace
We operate the only truly global luxury digital marketplace at a scale where lovers of fashion anywhere in the world can shop for an unrivaled range of incredible products from the world's best brands and boutiques. Explore the marketplace at Farfetch.com
As of September 30, 2018, over 3,200 different brands were available on our marketplace, ranging from heritage brands to emerging designers. Our consumers can shop across categories including Womenswear, Menswear, Kidswear, Vintage, Fine Watches, and Fine Jewelry, and we ship to 190 countries around the world.
We offer a range of services for consumers to make shopping on Farfetch a great experience. We offer localized websites in 12 local languages, multilingual customer support and great delivery options including same-day delivery in 19 major global cities and F90 store to door in 90 minutes. We also provide inspiration, unique content and other services to help our customers navigate the breadth of product available on Farfetch.
Store of the Future
The Augmented Retail Vision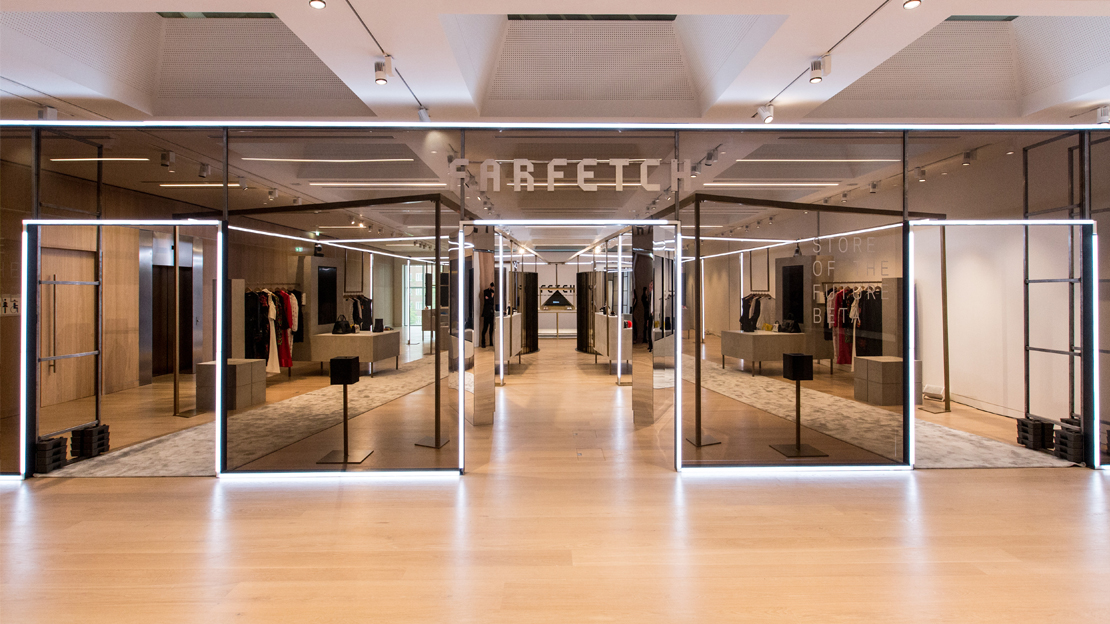 We believe the future of luxury fashion retail will be defined by the reinvention of the consumer experience, through online and offline integrations. We call this vision Augmented Retail, taking the magic of the physical store experience and bringing it together with the advantages of the online and digital experience, underpinned by the use of data.
Our Augmented Retail vision begins with the consumer in mind. Consumers enjoy the experience of being in the store, building a relationship with the sales associate and experiencing merchandise in the luxury store setting, yet technology has meant that consumers now expect ultra-personalized experiences, both in their real and digital lives and expects those words to be seamlessly connected. Our Augmented Retail vision reflects the retail experience of the future by giving retailers the visibility of their consumers' preferences, both in-store and online, enabling them to enhance the services they can offer. With this in mind, we have developed a range of services and technologies to progress innovation in the luxury industry.
In April 2017, we unveiled our Augmented Retail vision and launched Farfetch Store of the Future, a technology-powered retail operating system. This suite of technologies aims to improve retail productivity by capturing consumer data and enhancing interactions between consumers and sales associates, both in store and when the consumer interacts with the retailer or brand online. The open innovation approach to our operating system means that retailers and brands can also use third-party technologies on our platform. This allows for a uniquely tailored offering to each brand or retailer in keeping with their in-store and online strategy. Our Farfetch Store of the Future technology launched in Thom Browne's flagship store in New York in March 2018. In February 2018, we announced an exclusive multi-year global innovation partnership with CHANEL, through which we will work together to develop a range of digital initiatives to deliver a superior consumer experience both online and offline.
FREE SHIPPING AND RETURNS
TERMS & CONDITIONS
The free shipping offer is valid on full price merchandise totaling over $250
The $250 threshold applies to a customer's entire order, no matter how many boutiques are ordered from.
The offer applies to orders from all boutiques within the Farfetch network.
Free shipping is offered on the lowest price shipping option available, usually, DHL Standard or UPS Standard, depending on country ordered from.
This offer cannot be used in conjunction with any other Farfetch shipping offer.